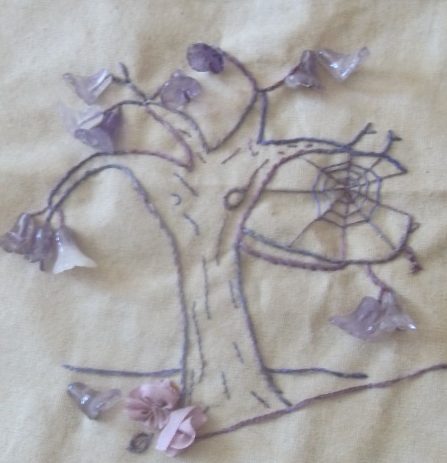 Embroidered Pictures
Inc. Epic Embroidery
With silks, wools and cabochon/beadwork
Our silkwork includes laced and marudai braids, embroidered pictures, keepsake cards, silk ribbon flowers and silk ribbon chokers.
Silkwork items can be produced to special request, we are also in the process of creating our Epic Embroidery, a purely self-indulgent project.
---
Embroidery
Our first embroideries were simple cross stitch, but we soon moved on to advanced designs using more stitches. When we were ten we received a gift of our first "proper" crewel kit - a small African girl with an afro hairstyle, holding a doll with the phrase "Rejoice and be Glad"; worked on natural jute in wool: the satin, daisy, chain and back stitches were easy; but we felt we had really accomplished something when I managed the French knots for the hair, we lost count of the number of knots, they were so close together, but the finished result was impressive. The more styles of embroidery we tried the more we enjoyed it - we found a fascination in threads. At the age of fourteen, inspired by our sister in law we designed and created my first sampler, post card size; two frogs (from our own drawings) two names and a wedding date. We later bought some Jo Verso books and used these for other "personalised" samplers, always veering to the older styles and designing my own characters / symbols where possible.
Our love of "breaking the boundaries" means that we were drawn to freestyle embroidery; these days we don't buy kits; we prefer to browse catalogues, books and images for inspiration before creating the design for myself, freehand; we create pictures in silk, cotton and sometimes polyester/rayon using history for our inspiration.
---
Embroidery - A Little History
It seems that embroidery has been around almost as long as the first clothes. Fine embroidery has been found in China dating back 2000 years, it was developed alongside silk production (sericulture).
In 1250 - 1350 English work (Opus anglicanum) was traded throughout Europe, although embroidery declined during years of the Black Death, it enjoyed a revival in the 16th century and with increased availability all classes were able to enjoy embroidery as a pastime; although the craft declined with the invention of machine embroidery.
---
Flowers
We enjoy botany and cannot be more thrilled than when filling a garden full of plants that we have raised from seed. We also enjoy reproducing flowers with ribbon and thread. With ribbons from Nostalgia and Little Trimmings my first attempt of flower making was made in the late 1990s. It seems, from our own research, that ribbon flowers became fashionable in the 1700s and enjoyed a resurgence in the Victorian era and the early 1900s, especially as embellishments on hats.
---