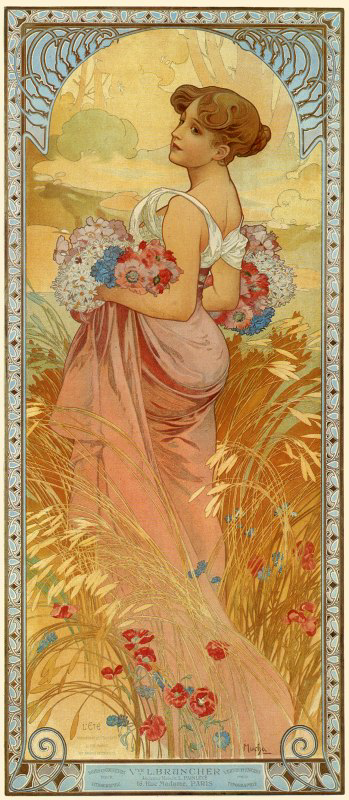 Our Inspiration
Our craftiness can be linked to our upbringing, so Patricia and Mildred have been greatly influencial.
We are also greatly in debt to the fabulous Alfonse Mucha (1860-1939) whose Art Deco designs are beyond compare and whose lithiograph 'The Moon' is featured on our website pages.
For other inspiration we have visited the courts of Europe through images available on the Internet.
We have travelled on the long journey down the Silk Road to China, where for centuries sericulture was a closely guarded secret; to exchange gems and Italian glass beads for the gossamer thread, before joining the ancient mariners to explore the seven seas, delving into the ruins of Pompeii and returning to England to mix with migrants and artisans ... passing through history from Celtic times, through the Roman Empire, the Dark Ages, the Middle Ages, the flamboyant courts of the Tudors, the Victorian court in mourning, Art Nouveau and Art Deco right up to the present day, in cyber space.
Here and now we have Swarovski and Pantone one offers the bling, the other the colour.
Places we visit and the life we live also provide a wealth of inspiration, a Scottish wedding has made us review our product ranges and we are to increase certain product ranges ... with more silk accessories.
Everything combined we have Bòcan Gealach the SilkPixie, hoping that our site visitors are as inspired as we are.
---