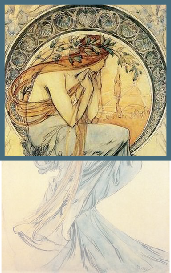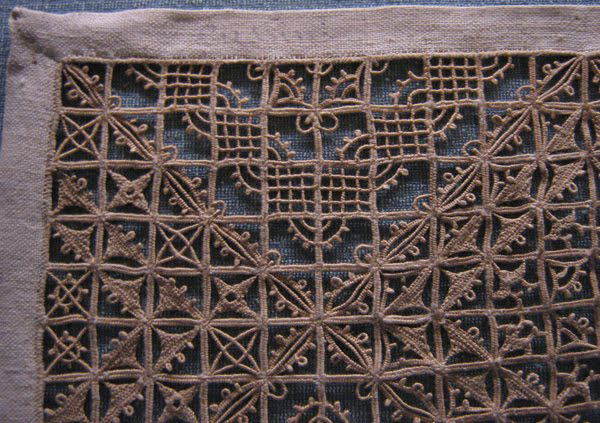 ×
As mentioned in our techniques page, we are passionate about lace, not just the bobbin/pillow lace of the 1600s but the earlier filet and needlelace.
For this reason we have been making lace in wire and threads since the late 1990s.
Starting with needle lace we evolved to include Teneriffe lace and dabble with bobbin/pillow lace.
---
Silk Pixie and Lace |
Having been drawn away from needlework, we were inspired to take up the thread again in 1998, while recuperating in hospital from a bout of pneumonia we read a project on needlelace and decided to give it a go. We remembered our grandmother making bobbin lace but it seemed so complicated; a single needle and thread looked easier, if more time consuming. Needlelace in all its forms is now one of our most popular working techniques. Since 1998 we tried bobbin lace but found the number of bobbins necessary for the finest and fancy lace bewildering, it seems so easy to lose track of which bobbin is pair with which. Although the technique is simple enough - lift over, twist; although as simple as the knit one purl one knitting instructions; like knitting; the simple steps can be combined to make complex patterns.
Although we kept our small traveller pillow (bought new from Church Meadow Crafts) , We will never reach the high standard achieved by our grandmother and for that reason, we do not enjoy it as much as we might have done without such a quality to live up to...
---
Lace - A Little History |
Needlelace in its purest form is created with nothing more than needle and thread. One form of needle lace, known as Oya, Armenian or knotted lace has been dated back in Turkey to the 8th Century B.C., this lace is constructed so that, unlike knitting or crochet, if one stitch is broken the rest won't unravel.
Other needle lace developed from the fancy embroidery of the Middle Ages; cutwork and lacy designs became an art form in itself; and there are several styles of needle lace - Teneriffe* Lace is mainly created in the round and was originally used as decoration in gaps of cutwork. Where the warp or weft thread are cut away, leaving just enough fabric to anchor the threads to - this was an old way of creating a border round the edge of work. Eventually the fabric behind the lace became less and the openwork increased.
Filet lace evolved from fishing nets, fine silks were woven into hair nets using the same netting techniques.
Bobbin lace is more difficult to date, relics resembling bobbins have been found in Rome, but it is generally agreed that bobbin lace was developed in the 1500s.
True laces (vrai dentelle) are bobbin and needle lace; knitted and crochet designs are regarded as "other laces".
* Although the modern way of spelling the Island is Tenerife, the spelling of the lace is still with two 'f's "Teneriffe"