Welcome to November!
Last month you may recall we were besotted and bedazzled by the new Swarovski®!

This month we have thankfully calmed down, although we have plenty of ideas for utilising more bling in our designs ... work on our shopping cart is ongoing, with a preview of the colour on selection, this is ideal for our Isabella Necklace where you mix and match crystal pearls and bicones.

Now the ghouls and ghosts of Hallowe'en have gone away and the countdown for Christmas has begun

We are working on a range of sinamay and Swarovski earrings, for the festive period.

Debbie @ silkpixie.com
---
What about the Crystal Crises?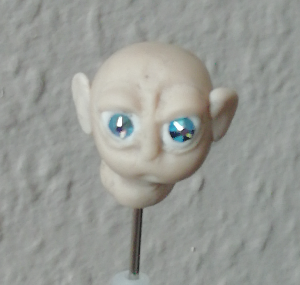 'Smeagol'
The crystal crises is the reason why our characters are taking a while to appear.
Our heads of the early millenium, had polished gemstone cabochon for eyes, we have been trying flatback crystals, but our initial attempts were affected by the varnish we used, following the methods in our book on characters, we part-baked the eyes separately but the varnish obviously reacted with heat, so we have been searching the internet for advice on the best varnish to use for our purpose.
The method we use means the clay is baked several times, Smeagol (pictured) has been in the oven 3 times already, as yet unvarnished, he is another benchmark in our character development and the varnish to the eyes will be the last thing that we apply.
Meanwhile our Christmas Angels are having their bodices and skirts designed.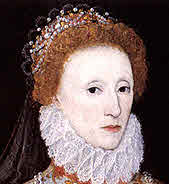 ---
We are continuing to work on our embroidery and a range of sinamay and silk projects. As soon as these are ready we will share them with you.
---
Stone of the month: Topaz
Flower of the month: Chrysanthemum
Notable Historical Events of November:
Ascension of Elizabeth Tudor, 1558, the birth of Kings William III 1750, Edward III 1312, Charles I in 1600 and Edward VII 1841, plus author CS Lewis 1898, Robert Louis Stevenson, 1850,composer William Blake 1757, Sir Winston Churchill in 1874 and the oh-so elegant actress, later princess of Monaco, Grace Kelly 1929.
The header features the new Swarovski®Crystal Eldenberry and Mulberry Pearls, their new peach rose colour, 'London Blue' topaz and a delightful unattributed image found on Pinterest