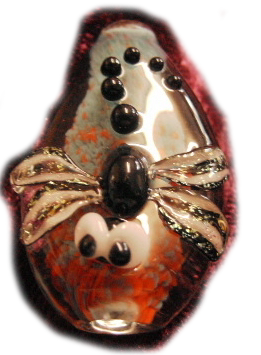 Venetian Glass
They say that mimickry is the sincerest form of flattery, if this is true the Venetian bead is still the most popular glass bead in the world.
Today's markets are flooded with "Murano style" beads from Asia, but for SilkPixie only the original will do.
Early dwellers of the 117 islands which form Venice were fishermen, but the marshy islands became permanent home to refugees fleeing Germanic invasion in AD568 ... more history
Venetian beads and trinkets were sold en mass to adventurers and pilgrims, travelling through Venice on their way to the Holy Lands.

Caramella
The beads we buy are all traditional designs, styles that date back for generations. The caramella bead has an opaque white core covered with translucent coloured glass. The modern caramella are the descendant of the trade route favourite whiteheart.
---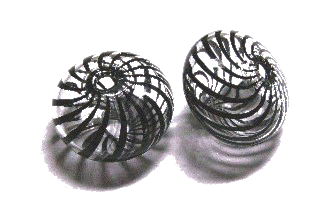 Cippolina
The shape of the Cippolina bead resembles the Spanish onion hence its name. Blown glass beads are hollow and lightweight, they make ideal earrings, the rough edge of the hole is characteristic, due to their method of manufacture and can be covered by a bead cap.
---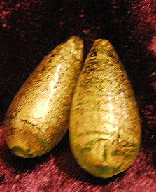 Ca'd'Oro
Gold and silver foil feature often in Venetian designs. The Ca'd'oro bead has three layers, translucent glass, foil and clear glass.
---
Zanfirico
Zanfirico beads vie for pole position in our personal favourites alongside the blown beads, Canes of reticello glass (clear glass with lace-like lines), are worked onto an opaque base, with millefiori slices, clear glass and gold foil, some of the foil is worked within the glass, and the bead is finished with a touch of gold foil, this may wear off after time, but it is a feature of these enchanting beads.
---