About Silk Pixie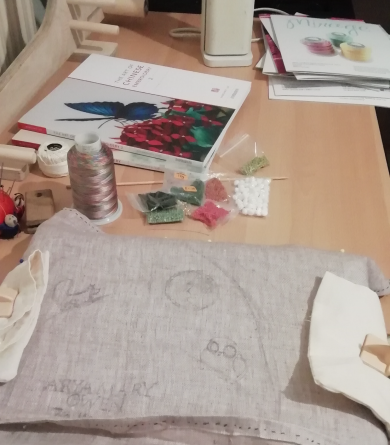 ---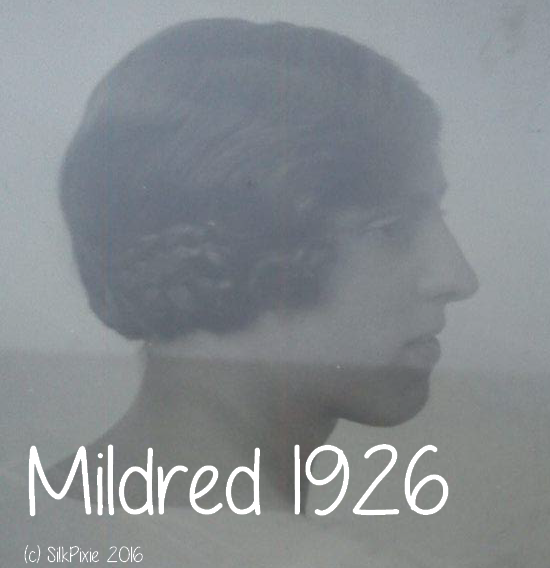 My Grandmother
a great lace and dressmaker
---
Stitchery is in my blood, while others of my family have gone along the practical route of dress-making, knitting and crochet, I've been inspired by the more decorative needle-lace, freestyle embroidery, ribbonwork and netting. I enjoy trying new techniques and was really pleased recently to be able to incorporate resin into my designs.
My talent for embroidery may have been inherited - my family tree is littered with seamstresses; milliners and East Midland Lace makers (coming as I do from Northamptonshire), my mother and grandmother are skilled with the needle in many forms and throughout my childhood I was surrounded with needlework and was encouraged to sew from an early age. I have tried all forms of needlework, some, like knitting, I abandoned early on, being left handed, I often found the stitches awkward to put into reverse, even using a mirror and I have never been very good at the practical side of needlework, such as dressmaking, because I am not that keen on using a sewing machine, the needle moves too fast for me and being accident prone it would only be a matter of time until I stitched myself to the fabric!
I developed a true love of embroidery, the different styles, the stitches, the freedom ... it became my favourite.
I first launched the SilkPixie website in June 2008; but I was constantly thinking of new crafts to add and new possibilities until it became unattainable to supply everything mentioned on the site: I wanted to import this, offer that and make the other, so I have simplified my work, to embroidery and embellishment.
Embroidery
My first embroideries were simple cross stitch, but I soon moved on to advanced designs using more stitches. When I was ten I received a gift of my first "proper" crewel kit - a small African girl with an afro hairstyle, holding a doll with the phrase "Rejoice and be Glad"; worked on natural jute in wool: the satin, daisy, chain and back stitches were easy; but I felt I had really accomplished something when I managed the French knots for the hair, I lost count of the number of knots, they were so close together, but the finished result was impressive. The more styles of embroidery I tried the more I enjoyed it - I found a fascination in threads. At the age of fourteen, inspired by my sister in law I designed and created my first sampler, post card size; two frogs (from my own drawings) two names and a wedding date. I later bought some Jo Verso books and used these for other "personalised" samplers, always veering to the older styles and designing my own characters / symbols where possible.
My love of "breaking the boundaries" means that I am drawn to freestyle embroidery; these days I don't buy kits; I prefer to browse catalogues, books and images for inspiration before creating the design for myself, freehand; I create pictures in silk, using history for my inspiration.
Embroidery - A Little History
It seems that embroidery has been around almost as long as the first clothes. Fine embroidery has been found in China dating back 2000 years, it was developed alongside silk production (sericulture). In 1250 - 1350 English work (Opus anglicanum) was traded throughout Europe, although embroidery declined during years of the Black Death, it enjoyed a revival in the 16th century and with increased availability all classes were able to enjoy embroidery as a pastime; although the craft declined with the invention of machine embroidery.
Flowers
I enjoy botany and cannot be more thrilled than when filling a garden full of plants that I have raised myself from seed. I also enjoy reproducing flowers with ribbon and thread. With ribbons from Nostalgia and Little Trimmings my first attempt of flower making was made in the late 1990s. It seems, from my own research, that ribbon flowers became fashionable in the 1700s and enjoyed a resurgence in the Victorian era and the early 1900s, especially as embellishments on hats.
The Temptation of Beads
During the 1990s I was drawn away from embroidery, I made jewellery, I tried beadwork, bead weaving; and then I connected to the Internet for the first time - what a revelation! Seeking out any opportunity to go online I scoured the advertisements in craft publications and found a site of African Trade Beads now I'd read about these beads in books (one I borrowed from the library was "Beads - An Exploration of Bead Traditions Around the World" by Janet Coles and Robert Budwig with photographs by Jonathan Lovekin); the book, as I later found, had mixed reviews but it was enough to get me hooked on the old and unusual. The first trade beads I bought were simple chevron slices, showing the wear and tear of centuries underground; I still buy and use old trade beads, but these days they tend to be singles that are, on occasion, incorporated into my embroidery designs. The love of the ancient Venetian beads, drew me towards modern Venetian Beads traditionally made and still amongst the best in the world.
Now I limit my beading to embellishment and bead curtains.
Gems
My love of gemstones dates back to a childhood gift, a legacy from my paternal grandmother of a simple aquamarine ring, my eldest sister then worked in a jewellers and brought home a handful of the faux stones they used in window displays, leading me to study the genuine article and family holidays would find me beachcombing for the garnets and quartz that could be found.
As an amateur gemmologist, the beauty of the world astounds and inspires me, from nature's geology the unending variety and colours of the gems to the gnarled old oak or willow on an ancient river bank.
Dabbling in Dyeing
It was a visit to Trefiw Woollen Mill in North Wales in 2004 which made me try dyeing; throughout my teenage years my sister was often tie-dyeing her clothes; but it wasn't until this visit that I was inspired to try dyeing for myself. In a small building next to the mill was a lady spinning with a wheel; from her I bought a bag of natural silk blend fibre and a spindle, almost on a whim, for my needle lace and she mentioned how well the thread would take up dye - so I decided to "give it a go". I have used The Alpaca Spinner for Ashford Acid Powder Dyes; and GeorgeWeil.com for natural dyes.
of course I could never hope to achieve the fine yarn required for needle lace on a spindle without a lot of practice; I was able to use the yarn for couching, but I didn't have the dedication to continue on the quest for fine thread. I did enjoy making braid with the homespun yarn but with so many machine made braids around, my creations did not stand out enough.
Equally important to me was an interview in 2016 at the Todd and Duncan Mill in Kinross, an age old Mill, now owned by a company in China, where they produce the finest Cashmere yarn imaginable. I didn't get the job, (I realised at the interview, for one thing I was too short to see the machinery properly!) but the tour of the mill was fascinating.
Lacemaking
Having been drawn away from needlework, I was inspired to take up the thread again in 1998, while recuperating in hospital from a bout of pneumonia I read a project on needlelace and decided to give it a go. I remembered my grandmother making bobbin lace but it seemed so complicated; a single needle and thread looked easier, if more time consuming. Needlelace in all its forms is now one of my most popular working techniques. Since 1998 I have tried bobbin lace and I am afraid I found the number of bobbins necessary for the finest and fancy lace bewildering, it seems so easy to lose track of which bobbin is pair with which. Although the technique is simple enough - lift over, twist; although as simple as the knit one purl one knitting instructions; like knitting; the simple steps can be combined to make complex patterns.
Several of my relatives still enjoy bobbin/cushion lacing and I used to love watching my grandmother producing lace at such a speed her hands and the bobbins were just a blur and although I have kept my small traveller pillow (bought new from Church Meadow Crafts), I realise I will never reach the high standard achieved by my grandmother and for that reason, I do not enjoy it as much as I might have done without such a quality to live up to...
Lace - A Little History
Needlelace in its purest form is created with nothing more than needle and thread. One form of needle lace, known as Oya, Armenian or knotted lace has been dated back in Turkey to the 8th Century B.C., this lace is constructed so that, unlike knitting or crochet, if one stitch is broken the rest won't unravel.
Other needle lace developed from the fancy embroidery of the Middle Ages; cutwork and lacy designs became an art form in itself; and there are several styles of needle lace - Teneriffe* Lace is mainly created in the round and was originally used as decoration in gaps of cutwork. Where the warp or weft thread are cut away, leaving just enough fabric to anchor the threads to - this was an old way of creating a border round the edge of work. Eventually the fabric behind the lace became less and the openwork increased.
Filet lace evolved from fishing nets, fine silks were woven into hair nets using the same netting techniques.
Bobbin lace is more difficult to date, relics resembling bobbins have been found in Rome, but it is generally agreed that bobbin lace was developed in the 1500s.
True laces (vrai dentelle) are bobbin and needle lace; knitted and crochet designs are regarded as "other laces".
* Although the modern way of spelling the Island is Tenerife, the spelling of the lace is still with two 'f's "Teneriffe"
The 21st Century
Gemstones feature widely in my designs, combined with silks and, when I can source it, Scottish linen.
With Kirkcaldy as one of my favourite places, I was delighted to discover their linen mill, shop and website (Peter Grieg / Scottish Linen) I had big plans to use it in all my embroidery designs so I was greatly saddened by the closure of the Kirkcaldy Linen Mill in April 2021, I had gone online on the Tuesday to place my usual order, to find they were closing on the Friday!
---
With one foot in the past, the other is firmly in the present, I've been working with computers since I joined the School Club in 1981 and have designed and created several sites since, the SilkPixie website was launched in 2008 and although the design has changed to keep with the latest developments, I've enjoyed coding and developing the site over the years.