About Silk Pixie
Silk Pixie is the crafting name of Debbie Owen, descended from a long line of Buckinghamshire bobbin lacemakers and dressmakers, who had finally settled in Northamptonshire.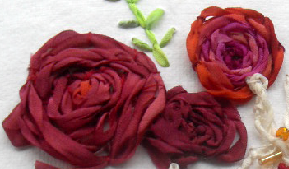 ×
Silk Ribbon Roses
With such a heritage I grew up with an enormous appreciation of threads and fabrics and the limitless possibilities in creation, when I was bequeathed an aquamarine ring by my paternal grandmother and I fell in love with gemstones.
Inspiration comes from many sources and there is scarcely a craft I haven't tried.
But it is always the needle that pulls me back even though I am more likely to try new ways and creations.
---
Silk Pixie is firmly set in tradition, with a flair for adding a modern twist, but I am passionate about everything I create be it ribbon roses, crystal earrings, epic embroidery, clay work or even an HTML and javascript coded website.
I am a crafter who appreciates and gains inspiration from the past, but also embraces the present and looks forward to the future.
---